News
Bravada's Drill Permit Approved for the Quito Gold Property, Nevada
March 2, 2018
Vancouver, British Columbia - (Newsfile Corp. - March 2, 2018) - Bravada Gold Corporation (TSXV: BVA) (OTCQB: BGAVF) (FSE: BRTN) (the "Company" or "Bravada") has received, subject to posting a reclamation bond, approval of its drilling permit from the U.S. Forest Service for the Company's Quito Gold property, which is located along the Austin Gold trend in central Nevada. The permit allows four sites to be drilled at the Quito Extension target in 2018. Multiple holes can be drilled from these sites. The Quito Extension target was developed by 3D computer modeling of historic drill-hole assays and surviving blast-hole data. The model shows a strong southeasterly plunge to the highest-grade gold mineralization, much of which assayed 15g/t Au in the Quito pit and in limited underground workings. The Company plans to drill 4 to 6 holes for a total of 1,600m beginning in the third quarter of 2018 with the intent to test the down-plunge extension of the high-grade mineralization, which occurs at the intersection of two mineralized faults. Other targets were also advanced to a drill-ready stage and are being prepared for permitting.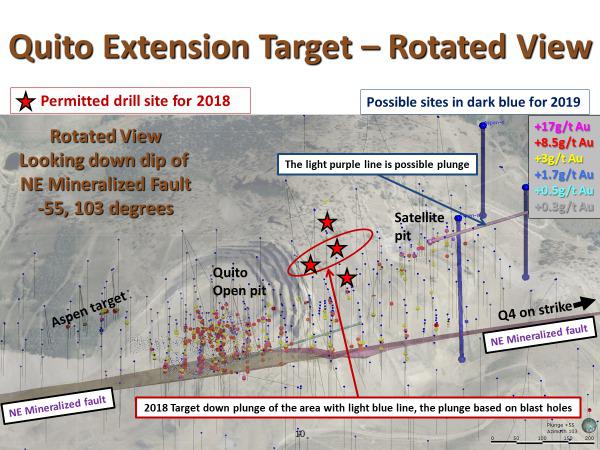 Quito Extension Target - Rotated View
The geological setting at Quito resembles many of Nevada's largest and richest Carlin-style gold deposits. Mineralization is concentrated in Paleozoic-age carbonate sediments, with the highest grades being associated with fault intersections along the axis of a property-scale anticline. The property consisting of 342 lode claims (~2,700 hectares), and from 1986 through 1989, Quito reportedly produced 174,460 ounces of gold at a grade of 5.92 grams per ton (g/t) from a deposit consisting of 1.7 million short tons at an average gold grade of 6.34 g/t. Note that Bravada has not independently confirmed either the past production or any possible remaining resources, and these historic figures should not be relied upon.
Bravada can earn a 70% interest in the Quito project by conducting US$2.5MM in work expenditures by 2020, of which approximately 50% has been spent to date and with additional work expenditures not becoming due until 2019. Within 60 days after Bravada's earn-in, Meridian Minerals Corp. (the Optionor) can either: 1) elect to participate in further exploration and development expenditures at 30%, 2) elect to earn a 51% working interest should a deposit of greater than 2 million ounces be discovered by the earn-in date by paying Bravada 300% of Bravada's exploration expenditures and funding Bravada's share of capital expenditures to bring the Property into commercial production (repaid out of 80% of Bravada's cash flow from its 49% working interest in the mine), or 3) elect to reduce to a 2% NSR royalty and receive $500,000 as cash or Bravada shares at Bravada's option. No other royalties encumber the property.
About Bravada
Bravada is an exploration company with offices in Reno and a portfolio of 11 high-quality properties in Nevada, one of the best mining jurisdictions in the world. During the past 12 years the Company has successfully identified and advanced properties that have the potential to host high-margin deposits while successfully attracting partners to fund later stages of project development. Currently, exploration expenses on three of its Nevada properties are being funded by partners. Eight of the Company's properties have been developed through exploration by Bravada and are drill-ready, or close to being so, with exploration to continue throughout 2018 subject to funding availability.
On behalf of the Board of Directors of Bravada Gold Corporation Joseph A. Kizis, Jr., Director, President, Bravada Gold Corporation

For further information, please visit Bravada Gold Corporation's website at bravadagold.com.
Contact Information:
Jay Oness
VP Investor Corporate Development Tel: 604-641-2759
Email: moc.dtlxnm@ssenoj
Neither TSX Venture Exchange nor its Regulation Services Provider (as that term is defined in the policies of the TSX Venture Exchange) accepts responsibility for the adequacy or accuracy of this release.
This news release may contain forward-looking statements including but not limited to comments regarding the timing and content of upcoming work programs, geological interpretations, receipt of property titles, potential mineral recovery processes, etc. Forward-looking statements address future events and conditions and therefore involve inherent risks and uncertainties. Actual results may differ materially from those currently anticipated in such statements. These statements are based on a number of assumptions, including, but not limited to, assumptions regarding general economic conditions, interest rates, commodity markets, regulatory and governmental approvals for the company's projects, and the availability of financing for the company's development projects on reasonable terms. Factors that could cause actual results to differ materially from those in forward looking statements include market prices, exploitation and exploration successes, the timing and receipt of government and regulatory approvals, and continued availability of capital and financing and general economic, market or business conditions. Bravada Gold Corporation does not assume any obligation to update or revise its forward-looking statements, whether as a result of newinformation, future events or otherwise, except to the extent required by applicable law.