News
Bravada Receives Drill Permit Approval for Highland and Encouraging Soil Results at Gabel Projects in Nevada
July 31, 2023
Bravada Gold Corporation ("Bravada" or the "Company")announced today that it has received approval, subject to posting the required bond, for a Notice-level drilling permit from the Bureau of Land Management for sixteen drill sites on Bravada's Highland Project. The project is within the prolific Walker Lane Gold belt, where large gold/silver deposits continue to be discovered, increasingly beneath "barren" surface alteration. The Company also reports on encouraging geochemical results from soil samples recently collected over the gravel-covered portion of the Gabel Project, a Carlin-type gold property within the Battle Mountain/Eureka Gold belt. Both projects are in Nevada.
Highland Project
The Company plans to drill approximately 2,600 metres in 15 holes at the Highland low-sulfidation-type project during the fall of 2023, subject to rig availability. The property consists of 192 Federal lode claims (~1,500 hectares). Previous drilling by Bravada intersected vein zones with high-grade intercepts, confirming the potentially productive nature of a hydrothermal gold system. The Company's best hole, H02013, intersected 1.5m of 66.9g/t gold and 397.7g/t silver within a 12.2m intercept of 9.5g/t gold and 109.4g/t silver (previously announced, true thicknesses estimated at 65% of the intervals). Highland is a large property with multiple "hot spots" of high-grade gold at surface, although variable thicknesses of gravel cover much of the property and several targets have been identified that have not been previously tested with drilling. The permitted drill sites are for two of those targets, Big Hammer and Geyser.
Widespread samples of float, outcrop, and soils collected at the Big Hammer target contain anomalous gold and pathfinder geochemistry, with values of 0.1g/t to 1.0/g/t Au and with a maximum of 15g/t Au in a float sample. These values are interpreted to be leakage very close to the paleo-surface based on geologic features; thus, with minimal erosion, undiscovered high-grade vein deposits should be preserved in their entirety.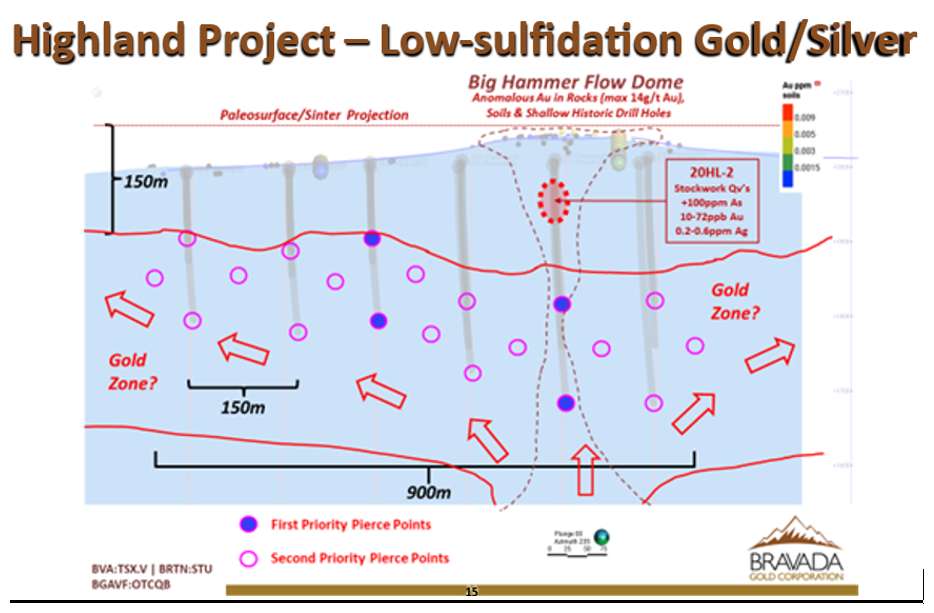 The Geyser target is an extensive area of sinter outcroppings and float. A float sample of a chalcedony veinlet cutting sinter assayed 0.39 ppm Au, indicating a gold-bearing hydrothermal system. CSAMT geophysics indicates the target is an extension of the same fault system that is being tested at the Big Hammer target. Only a few widely scattered shallow historic reverse-circulate holes have been drilled at this target, and drilling has not tested the boiling zone where most of the gold should have been deposited.
Gabel Project
The current Gabel claim group was originally part of a larger claim group extending to the west where excellent Devonian-age host rocks are exposed in outcrop. Although Bravada identified a large area of alteration with attractive pathfinder geochemistry, the Company dropped much of the exposed ground after reviewing drill results that were provided to Bravada by a previous explorer. The Company retained the current claim position to cover an anticlinal fold structure affecting the favorable host rocks, which is a structure frequently hosting the strongest gold mineralization, and to control the strongest surface geochemistry and jasperoid development where those features are covered by alluvium.
Encouraging drill results have been reported from mineralized faults southeast and south-southwest of Bravada's claims, and those structures project to intersect under the alluvium-covered portion of Bravada's claims. Soil samples were collected, and gold values are shown on the figure below. Favorable host rock should lie beneath relatively shallow alluvial cover. Additional field work is planned to refine the target, prior to drill planning and permitting.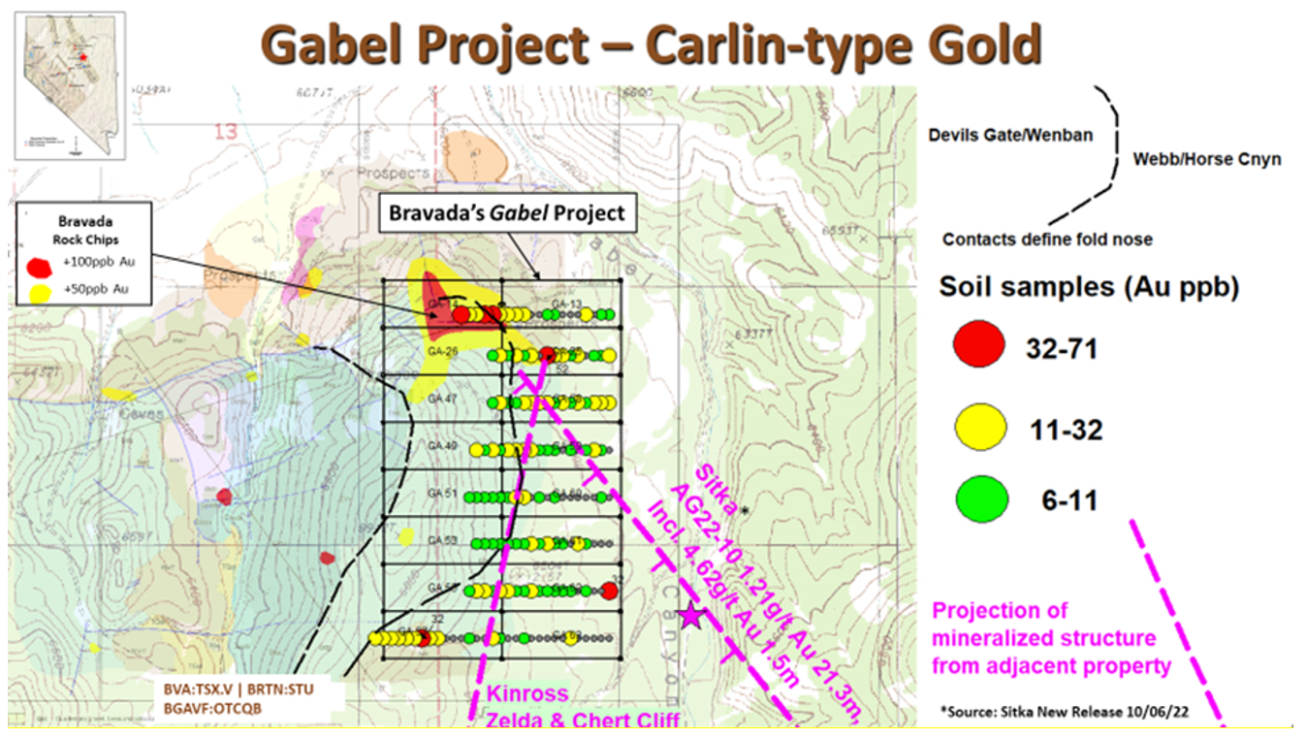 Other Projects
Additional geologic mapping, soil sampling, and geophysics are also planned to refine drill targets in preparation of drill permitting for the SF/HC project, a Carlin-type gold property in the Battle Mountain/Eureka Gold belt approximately 6km east of the Goldrush/Red Hill development project.
Successful reclamation has been approved by the Bureau of Land Management for previous drill sites at the Wind Mountain project, and planning is underway to modify the permit to allow for additional drilling in areas not yet sufficiently drilled to extend shallow low-sulfidation gold mineralization that is uphill from a second possible leach-pad site.
About Bravada
Bravada is an exploration company with a portfolio of high-quality properties in Nevada, one of the best mining jurisdictions in the World. Bravada has successfully identified and advanced properties with the potential to host high-margin deposits while successfully attracting partners to fund later stages of project development. Bravada's value is underpinned by a substantial gold and silver resource with a positive PEA at Wind Mountain, and the Company has significant upside potential from possible new discoveries at its exploration properties.
Since 2005, the Company entered into 33 earn-in joint-venture agreements for its properties with 20 publicly traded companies, as well as a similar number of property-acquisition agreements with private individuals. Bravada currently has 10 projects in its portfolio, consisting of 810 claims for approximately 6,500 ha in the Battle Mountain/Eureka and Walker Lane Trends, two of Nevada's most prolific gold trends. Most of the projects host encouraging drill intercepts of gold and already have drill targets developed. Several videos are available on the Company's website that describes Bravada's major properties, responding to investor's commonly asked questions. Simply click on this link https://bravadagold.com/projects/project-videos/ .
Joseph Anthony Kizis, Jr. (AIPG CPG-11513) is the qualified person for the Company and is responsible for reviewing and preparing the technical data presented in this release and has approved its disclosure.
On behalf of the Board of Directors of Bravada Gold Corporation
"Joseph A. Kizis, Jr."
Joseph A. Kizis, Jr., Director, President, Bravada Gold Corporation
For further information, please visit Bravada Gold Corporation's website at bravadagold.com or contact the Company at 604.684.9384 or 775.746.3780.
Neither TSX Venture Exchange nor its Regulation Services Provider (as that term is defined in the policies of the TSX Venture Exchange) accepts responsibility for the adequacy or accuracy of this release.
This news release may contain forward-looking statements including but not limited to comments regarding: the timing and content of upcoming work programs, geological interpretations, receipt of property titles, potential mineral recovery processes, etc. Forward-looking statements address future events and conditions and therefore involve inherent risks and uncertainties. Actual results may differ materially from those currently anticipated in such statements. These statements are based on a number of assumptions, including, but not limited to, assumptions regarding, general economic conditions, interest rates, commodity markets, regulatory and governmental approvals for the company's projects, and the availability of financing for the company's development projects on reasonable terms. Factors that could cause actual results to differ materially from those in forward looking statements include market prices, exploitation and exploration successes, the timing and receipt of government and regulatory approvals, and continued availability of capital and financing and general economic, market or business conditions. Bravada Gold Corporation does not assume any obligation to update or revise its forward-looking statements, whether as a result of new information, future events or otherwise, except to the extent required by applicable law.