(Updated February 4th, 2021)
Bravada owns a 100% interest in 56 unpatented lode-mining claims that comprise this project, subject to a 1% NSR royalty, which can be reduced to 0.5% NSR by payment of US $3 million at any time. In March 2015, an agreement was signed with Goldspike Exploration Inc. (now Nevada Zinc Corp.) allowing Goldspike to earn 50% interest in the North Lone Mountain Claims by financing a work program of $150,000 (U.S.), after which the companies will form a joint venture to further explore and develop the property. The property has since been returned to Bravada.

The project is located in Kobeh Valley just off of the southern edge of the Roberts Mountains. The property is concealed by alluvium, but Paleozoic sediments are exposed immediately west, in low hills, north in the Roberts Mountains and south at Lone Mountain. There are various drill holes located on and adjacent to the claims, for which limited data is available.

Beneath alluvial cover is basement composed of carbonate rocks, referred to as Lower Plate, and siliclastic rocks, referred to as Upper Plate rocks. Depth to bedrock is believed to range from 0m to +400m in the project area. Lower Plate carbonates that have been recognized in drill holes include the Lone Mountain dolomite and various overlying limestone, silty limestone, and dolomite, including the Bartine member of the McColley Canyon formation and the Denay formation. The Bartine member and Denay formation host the Gold Bar Mine deposits. Another potential ore horizon is the unconformity at the base of the Webb siliciclastic rocks.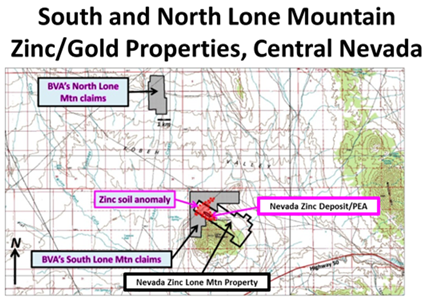 Nevada Zinc Corp. also controls the Lone Mountain zinc project, located approximately 10 kilometres to the southeast where they are delineating high-grade zinc mineralization and have an option to purchase a 100-per-cent interest through payments of cash, shares, and a retained royalty in Bravada's South Lone Mountain property. South Lone Mountain is adjacent to the Lone Mountain zinc property and soil geochemistry indicates that mineralization extends onto Bravada's claims.